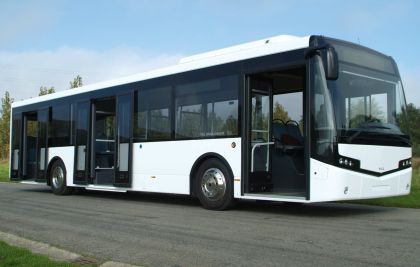 Citea.
(CZ + EN) Hybrid VDL Bus & Coach Citeas for the Dutch city of Enschede
Středa, 13. května 2009,
dabra
VDL Bus & Coach vyvíjí 2 hybridy Citea: plně nízkopodlažní verze 12 m CLF (Citea Low Floor) jako část inovačního programu 'The Vehicle of the Future is About to Set Off' holandské vlády. Program byl vytvořen pro tichou, čistou, ekonomickou a bezpečnou mobilitu.

Iniciátoři tohoto projektu jsou region Twente na východě Nizozemí s zastupitelstvem Enschede a dopravcem Connexxion jako partnery spolu s VDL Bus & Coach, Vossloh Kiepe, Universitou Twente a DHV.

Hybridy Citea jsou pro město Enschede. Budou po dobu dvou let testovány v běžném provozu. Dodávky autobusů budou v polovině roku 2010.

Z TZ VDL Bus & Coach bv VDL Bus & Coach Nederland bv Valkenswaard, 11.5.2009. Kompletní v angličtině.
---
Hybrid VDL Bus & Coach Citeas for the Dutch city of Enschede
VDL Bus & Coach has started developing 2 hybrid Citeas: low-floor versions of the CLF (Citea Low Floor), 12 metres in length and with a completely flat floor. The development is to be started up as part of the 'The Vehicle of the Future is About to Set Off' innovation programme introduced by the Dutch government. This program was created in order to get innovations for quiet, clean, economical, smart and safe mobility onto the market in The Netherlands faster. The development of 2 hybrid Citeas fits into this program and makes a contribution to sustainable vehicle innovation.

Quiet, clean and economical buses in Twente

The initiators of this public transport project are Regio Twente (Twente is an area in the east of The Netherlands), with the municipality of Enschede and bus company Connexxion as partners. VDL Bus & Coach, Vossloh Kiepe, the University of Twente and consultancy and engineering firm DHV are the joint contractors.

The hybrid Citeas are for the city of Enschede. These buses are to be deployed here on a normal timetable for a period of two years. During these two years the Citeas will be tested and information will be gathered about operational characteristics and the sustainability effects that can be achieved. The delivery of both Citeas is scheduled for the middle of 2010.

Objectives

The development of this new generation of hybrid bus involves making improvements to existing techniques and using new technologies. The objectives include fuel savings of 50%, a reduction in CO2 emissions of 50% and particulate and NOx reductions of as much as 70%. This can be achieved because the Citeas are electrically driven, with the diesel engine functioning as the generator for the electrical power.

In addition to the fact that the lightweight concept of the Citea in itself gives considerable fuel savings, braking energy is recuperated and the diesel engine only starts up above a certain speed and is turned off when the bus stops. Only the electric motor is used when driving off. An additional environmentally friendly aspect of this is that far less noise is produced.

PR Valkenswaard, 11 May 2009, VDL Bus & Coach bv VDL Bus & Coach Nederland bv