Silné mezinárodní zastoupení na EURO BUS EXPO 2006 v Birminghamu.(CZ+EN)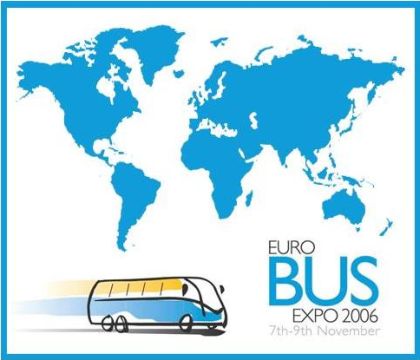 Euro Bus Expo, veletrh autobusů a autokarů, se připravuje na letošní podzim. (The bus and coach market is preparing for this autumn's Euro Bus Expo and recent exhibitor sales reflect a strong International presence.)
Úterý, 28. února 2006,
dabra
Veletrh
Euro Bus Expo
se koná 7. -9. listopadu 2006 v prostorách Národního Výstavního Centrua - NEC v britském Birminghamu. Je to příležitost pro výrobce autobusů a autokarů ukázat novinky a rozvíjet pozitivní vztahy na evropském trhu.
Přes 150 britských, evropských a světových vystavovatelů si již zajistilo prostor na Euro Bus Expo a další se registrují.
V současnosti posledními na seznamu vystavovatelů je finská Teknoware (vnitřní osvětlení) a Tamware (dveřní systémy), turecké společnosti jako Purplast (vnitřní a vnější polyuretoanové díly) čínská autobusová společnost King Long.
Informace nejen pro vystavovatele
Euro Bus Expo 2006 se koná v úterý 7. (10:00 - 17:30) ve středu 8. (9:30 - 17:30) a ve čtvrtek 9.listopadu (9:00 - 17:00) v Národním Výstavním Centru (NEC) v britském Birminghamu současně s "Transport Innovations".
Euro Bus Expo v halách 4 & 5 zabere 30,000 m2.
Euro Bus Expo organizují Confederation of Passenger Transport UK a Expo Management Ltd.
Další informace na www.eurobusxpo.com
Vystavovatelé se mohou obracet na 44 (0)870 224 8619 nebo na tracy.hawley@expom.co.uk
Další Euro Bus Expo se koná v roce 2008.
Zdroj: TZ Euro Bus Expo. Překlad a úprava BUSportál. Kráceno. Kompletní PR v angličtině. Shorted, completely in English.
---
STRONG INTERNATIONAL PRESENCE AT EURO BUS EXPO 2006
The bus and coach market is preparing for this autumn's Euro Bus Expo and recent exhibitor sales reflect a strong International presence.
Euro Bus Expo, which will take place on 7th - 9th November 2006 at the NEC Birmingham UK, has been introduced to provide an opportunity for the coach and bus market to showcase new innovations and develop positive relationships within the European Market.
It seems the message is certainly getting through and some of the latest names to the exhibitor list are Finnish companies Teknoware, who are an interior light solutions company and Tamware who specialise in door solutions. Teknoware's Export Manager, Jeroen Hinnen said, "As far as we're concerned Euro Bus Expo is a show we have to be at. It will be a great opportunity for us to display our newest light innovations and we will be bringing brand new LED solutions made especially for the bus market. This is also a chance for our company to make more contacts and get an even better foothold in the UK and European market."
Turkish companies such as 'Purplast' have also recently secured their stand. One of the leading manufacturers of polyurethane parts for the automotive industry, Purplast specialises in the production of interior and exterior polyurethane and ABS parts for commercial vehicles. Dashboards, seating systems, partitions and steering wheels are just some examples from the product range, which they say are perfect for the requirements of the coach and bus Industry and some of these will be on display over the three days.
Expo Management's, Managing Director, Mark Griffin commented "It's great to see that the European market has really taken on board just how valuable this show will be. They are seeing our vision and what a great oportunity it will be to show their newest industry developments to a European audience."
Not only are European companies taking hold of the chance to network with new manufacturers, operators and suppliers but the international market is also forming a strong presence. Among these companies are Chinese manufacturers King Long who are one of the largest domestic coach manufacturers in the international market and are exhibiting with the intention of preserving existing business relationships as well as acquiring new ones.
"The international presence is a huge bonus to this show and will only add to the overall quality of both the visitor and exhibitor experience. It is also a good indication as to just how effective our dedicated launch plans have been and I am confident that it will be a great show for all", Mark Griffin concluded.
Over 150 UK, European and International exhibitors have already secured their place at Euro Bus Expo and further stands are being sold on a daily basis. This show is not one to be missed and should be a date that is firmly set in the industry's diary.
Notes for editors:
1.Euro Bus Expo 2006 will take place on Tuesday 7th,Wednesday, 8th and Thursday 9th November 2006 at the National Exhibition Centre (NEC) in Birmingham, United Kingdom, with Transport Innovations taking place in hall 4 at the same venue and same dates.
2.Show opening times are: Tuesday 7th November - 10:00 to 17:30 Wednesday 8th November - 09:30 to 17:30 Thursday 9th November – 09:00 to 17:00Novembe
3.Euro Bus Expo will take place in halls 4 & 5 and will occupy a total of 30,000 sq metres.
4.Euro Bus Expo is organised as part of a joint venture between the Confederation of Passenger Transport UK and Expo Management Ltd. The Confederation of Passenger Transport UK (CPT) is the voice of the road passenger transport industry in the UK, representing bus, coach and light rail operators.
5.For more information, an up to date exhibitor list or to download a copy of this release you can visit www.eurobusxpo.com
6.Exhibitors can book a stand or discuss sponsorship opportunities by calling the sales team on +44 (0)870 224 8619. Alternatively you can email our Exhibition Sales Manager Tracy Hawley on tracy.hawley@expom.co.uk
7.All PR for this show is being handled by Expo Management Ltd. For more information you can contact Louise Sturgess on +44 (0)1926 455268.
8.Euro Bus Expo will be staged in alternate even numbered years and so the next show will take place in 2008.
---
PR Euro Bus Expo